Unwrap the magic of the season with our "Santa Treats" Christmas Food Pack
A delightful assortment of gourmet goodies and festive surprises that's perfect for sharing with friends and family. This thoughtfully curated package is designed to add a dash of joy to your holiday celebrations.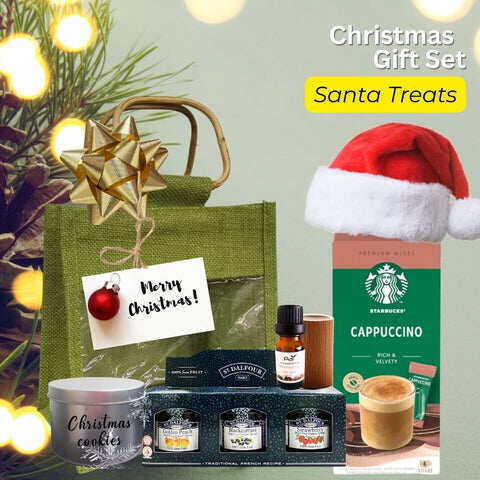 🍇 St Dalfour Fruit Spreads: Indulge in the rich and natural flavors of St Dalfour Fruit Spreads, available in three delicious varieties in a single box. These exquisite spreads are the perfect accompaniment to your holiday breakfast or tea, spreading cheer with every bite.
🍪 Fresh Bake Handmade Cookies: Savor the warmth and comfort of the season with our freshly baked, handmade cookies. Each bite is a taste of homemade goodness, bringing a smile to your lips and a touch of nostalgia to your heart.
☕ Starbucks® Caffè: Get your mornings off to a cozy start with our exclusive Starbucks® Caffè pack, containing four sachets of the signature brew. It's the ideal way to enjoy the holiday season's chilly mornings or take a moment to relax during the day.
🌲 Christmas Pine Essential Oil & Wood Diffuser: Infuse your home with the scents of the season using our Christmas Pine Essential Oil. Paired with the elegant wood diffuser and a convenient pouch, it's a beautiful addition to your holiday decor, creating a warm and inviting ambiance.
💌 Personalized Christmas Card: Make your gift truly special by adding your personal touch. Our Christmas card is the perfect canvas to express your warmest wishes and spread the love and joy of the season.
🎄 Theme Decoration and Packaging Box: The "Santa Treats" pack comes in a charming and festive theme decoration box. It's not just a gift; it's a delightful surprise that captures the essence of Christmas.
Share the spirit of the season with our "Santa Treats" Christmas Food Pack. It's a wonderful way to exchange love, appreciation, and holiday cheer with your friends and family. This delightful assortment of treats and goodies is designed to make your celebrations even more memorable.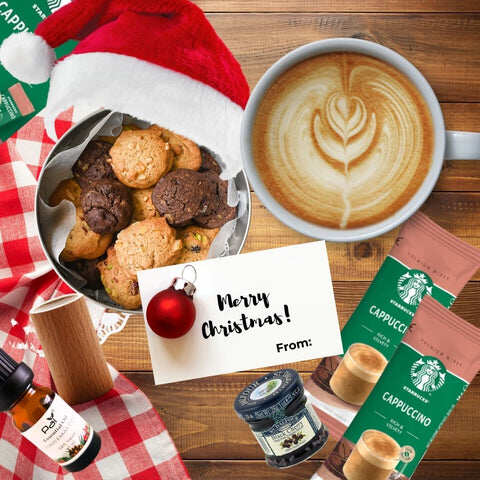 PAI Christmas Gift Set - Santa Treats Include
* 1 Box of St Dalfour Fruit Spreads 3 Flavour 100% from fruit (Mango Passion Fruit,Apricot,Black Berry)
* 1 Pack of Fresh Bake Handmade cookies 100g
* 1 Box of Original Starbucks® Caffè (4 sachets) Pack ( Latte/Cappuccino /Mocha)
* 1 bottle of 10ml Christmas Pine Essential Oil , Wood Diffuser and a canvas pouch
* 1pc of Santa Claus Christmas Hat / Socks
* SPECIAL ADD ONS - Christmas decor & Ribbon and gift box Packing
* PERSONALISED MESSAGE GREETING CARD * PACKAGE SIZE 25CM(L) X 17CM(W) X 8CM(H) **In the event that products are unavailable, we will substitute with similar item(s) of an equal or higher value without prior notice**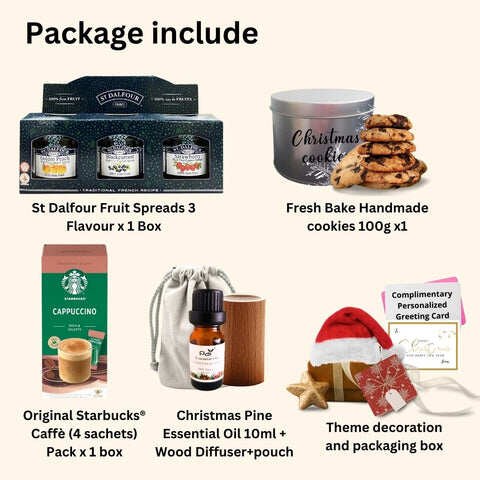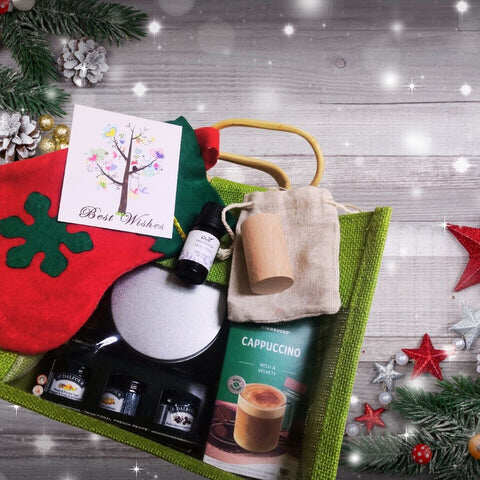 For exchange gifts and share happiness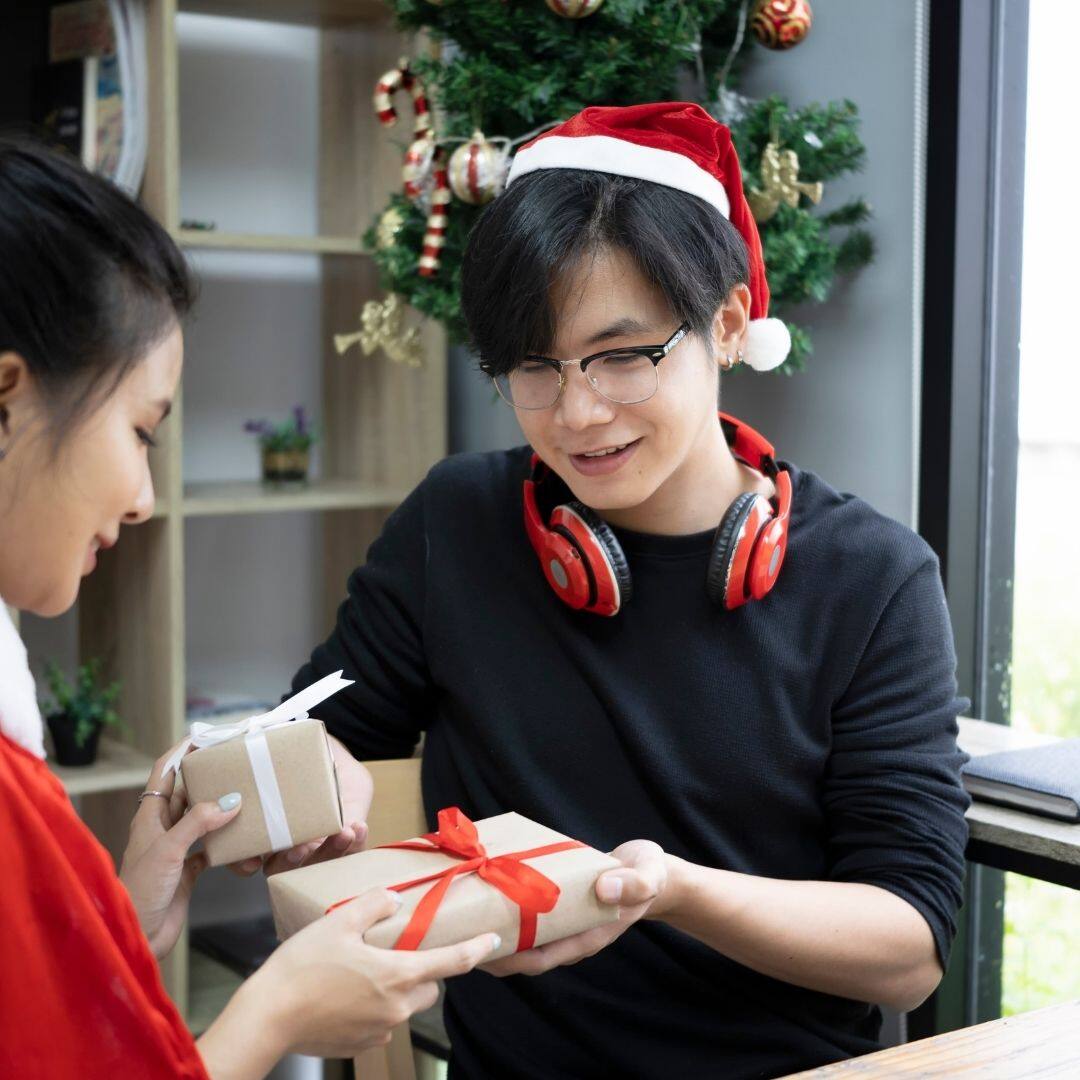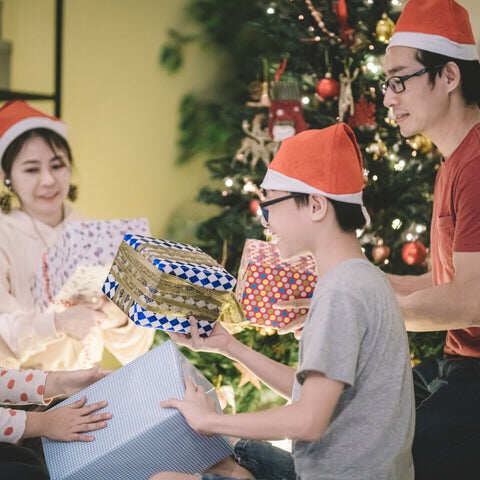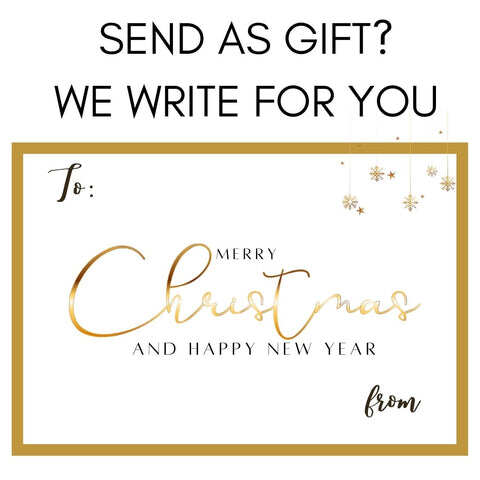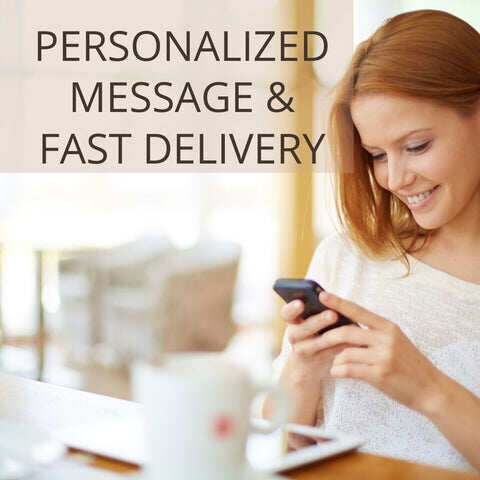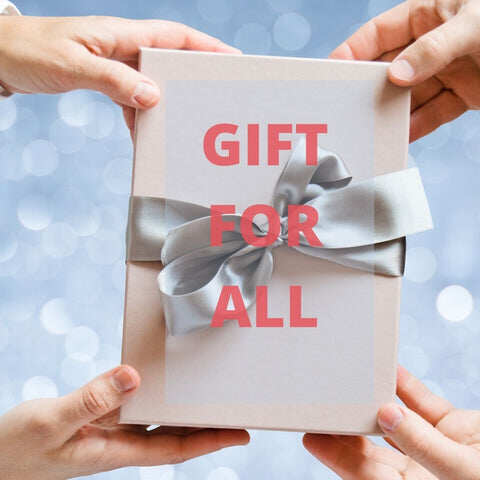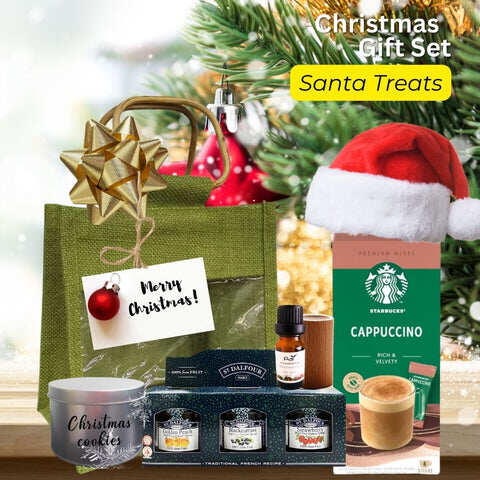 Order the "Santa Treats" Christmas Food Pack now, and let the magic of the holidays fill your home and hearts. 🎅🍪☕🎁