Elevate the holiday spirit with our Serenity Christmas Gift Set 🎁✨. Give the gift of warmth and sweetness. This thoughtfully curated package includes everything needed to create a cozy and inviting atmosphere, making it an ideal gift for exchanging with friends and family.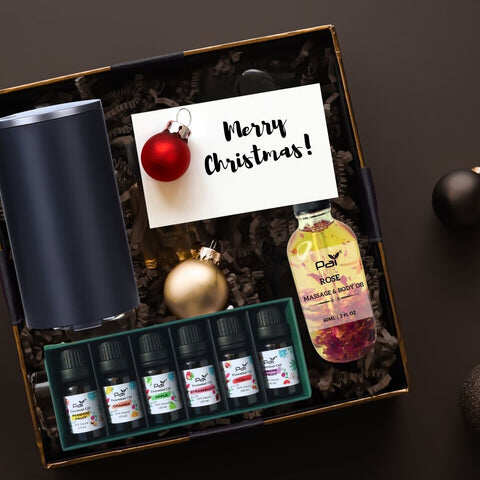 🎁 Aroma Diffuser: Transform any space into a tranquil haven with our sleek and stylish aroma diffuser. Its whisper-quiet operation and soft LED lighting will enhance the ambiance of any room. Simply add a few drops of our included essential oils, and let the soothing scents envelop your senses.
🍊 Fruity Series Essential Oils: Our gift set includes a collection of six delightful fruity essential oils. Each bottle is carefully crafted to bring a burst of natural fragrance to your home. The scents of citrus, berries, and tropical fruits will transport you to a sunny paradise, even on the coldest winter days.
🌹 Rose Massage Oil: Pamper yourself with our luxurious rose massage oil. Perfect for winding down after a long day, this silky-smooth oil is infused with the romantic and enchanting scent of roses. It's a delightful addition to your self-care routine and a reminder of the beauty and love that Christmas brings.
💌 Personalized Christmas Card: To make your gift truly special, we've included a personalized Christmas card. Add your heartfelt wishes, and let your loved ones know how much you care. It's a beautiful touch that will make your gift even more memorable.
This Christmas Gift Set is not only a feast for the senses but also a gesture of love and warmth that will be cherished by those who receive it. Share the spirit of the season with a gift that fosters relaxation, connection, and joy. Your friends and family will treasure it, just as they treasure you.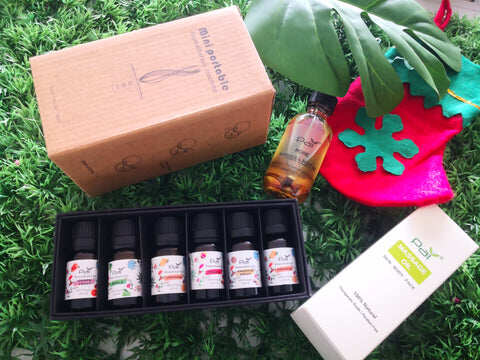 Package 1: PAI Christmas Gift Set  Serenity Include * 1 Ultrasonic Diffuser with USB charger * 6  bottles of 10ml Fruity Series Essential Oil  * 1 Bottle of 60ml Massage Oil * 1pc of Santa Claus Christmas Hat * SPECIAL ADD ONS - Christmas decor & Ribbon and glitter gift box Packing * PERSONALISED MESSAGE GREETING CARD * PACKAGE SIZE 25CM(L) X 17CM(W) X 8CM(H) **In the event that products are unavailable, we will substitute with similar item(s) of an equal or higher value without prior notice**